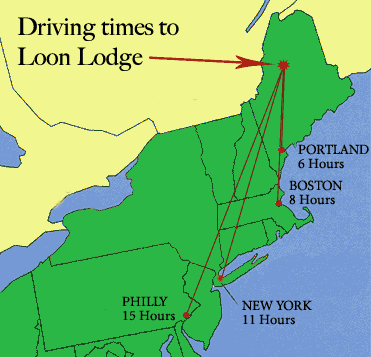 A loon calls out across the lake, you walk down to the shoreline as the morning mist is rising off the surface of the water and down in a cove a moose is feeding in the shallows. Think you're dreaming? This could be a reality here at Loon Lodge in the Allagash.
The Allagash is one of the last remote wildernesses left in the east. This is the  place where the deer, moose, bears, loons and bald eagles call home. The Allagash is a region rich in logging lore, where logs were once cut with axes and flowed in great log drives down the isolated streams and rivers of the area.
Getting to Loon Lodge is not an easy task because we are off the beaten path. But like we tell everyone, it is well worth the trip. Our nearest towns are Greenville and Millinocket, both of which are over 75 miles away (mostly gravel roads). Or like we explain it to our guest coming in, it is a two and a half hour drive in from town. The nearest pavement is 50 miles away.
But for the guests that are looking to "get away from it all" we are just what the doctor ordered. We suggest to our guests coming in from any great distance that it is wise to spend the night in one of these two towns rather that try to drive in after dark. Besides, the trip in is full of breathtaking scenery and wildlife and we would not want you to miss any of it (so keep your camera ready).
Access to Loon Lodge is on privately owned gravel roads and an access fee is charged to enter on their road system. We will let you know what the fee is upfront. These are gravel roads, so you may want to consider the type of vehicle you wish to bring in. We have had cars in here, but we recommend vehicles with better ground clearance. Four wheel drive is not a necessity, except in the early spring and late fall.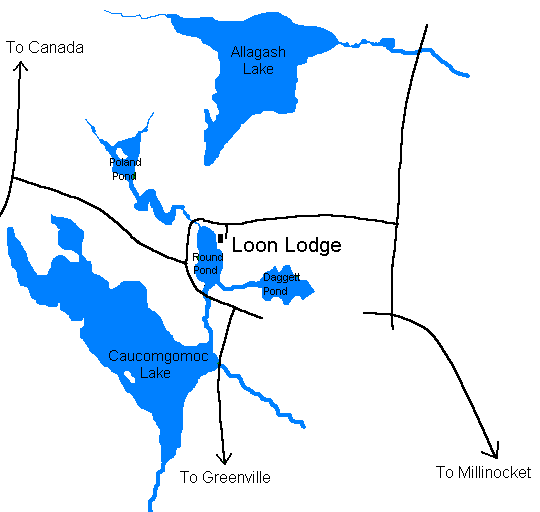 You can also choose to add more adventure to your trip by flying in from one of the two towns by seaplane and landing at our dock. But we need to remind you if you choose this method you are limited to the area that you can explore, fish or hunt unless you hire a guide to take you around. Because of the remote region we are in, phones (even cell phones) do not work at the lodge. Most of the hand held phones do not even work in the area. For emergencies at home our guests families can reach us by email or by leaving a message in our voice mail which we check every day through our satellite computer. So if you want to escape the hectic life of the big city, at least for a little while, we have an Adirondack chair on a porch overlooking our lake with your name on it.
FAQ